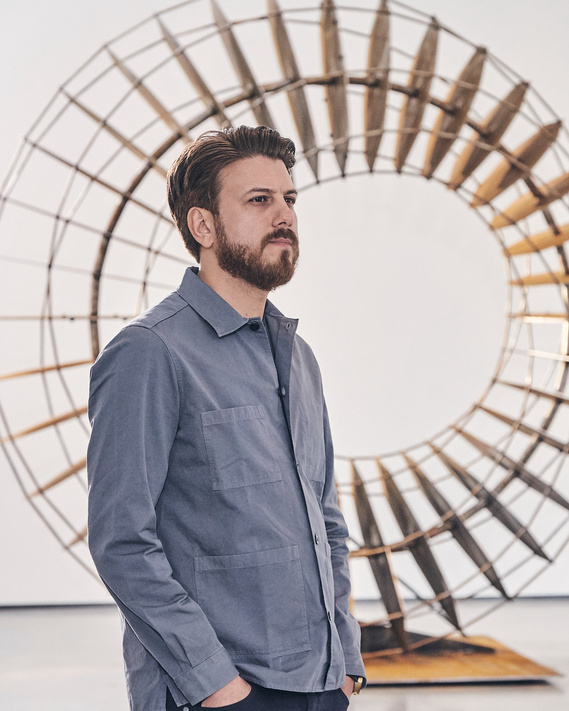 The Spirit of Sapien
Sapien is the alias and studio of artist/sculptor Steve Anwar. Steve is a member of the Royal Society of Sculptors (MRSS) and holds a bachelors degree in Industrial Design, graduating in 2004 from Sheffield Hallam University. He creates abstract sculptures for high-profile clients like: Yorkshire Sculpture Park, Sky Arts, Wentworth Pewter & Taylor Wimpey. Based in Sheffield, England the studio produces dynamic sculptures for private collectors & larger site-specific artworks for public realm projects, fusing elemental materials, digital design and traditional fabrication techniques. Anwar born and raised in the steel city likes to draw from his dual-heritage bringing together eastern philosophies with the industrial heritage of the North of England. He is intent in revealing hidden dimensions of mind and material, through an exploration of the junctions between opposing elements, such as: chaos and order, science and spirituality, poetry and machinery. His work exposes boundary lines to convey a raw sense of what it means to be a living breathing human being.
The Sapien practice exists to enrich the temporary human experience, to bridge the gap between meticulous handcrafting and spiritual wisdom, to lift the veil between the seen and the unseen. Consistently delivering meaningful, high quality sculptures at all scales - crafted with love, sweat and northern grit.
Sapien is a meditation teacher that can't sit still. A maker of solid metal sculptures inspired by ethereal weightlessness. A man with industrial Sheffield roots enthralled by eastern spirituality. The collision of opposites is the catalyst for new sculptural possibilities.




The Art of Meditation
Personal growth and mental health lie at the heart of the Sapien practice. Steve is a master meditator with 17 years of dedicated practice & 10 years teaching classes, guiding hundreds of people in Yorkshire, including a two year spell teaching students and staff at the University of Sheffield. He came to meditation after a long and very challenging illness that left him completely bedridden for 5 years. He continues to run various classes, courses & workshops in his local area to support mental health in the community. Much of his creative inspiration is taken from this multifaceted topic. In 2016 Steve became a certified teacher - completing his 16 week 'Masters of Wisdom & Meditation' teacher training in Carlsbad, California with the esteemed master Davidji.
Steve has found infusing these ancient techniques with his own creative process can have unexpected results, dramatically improving & unlocking creative potential. He calls this process 'Meditation Mapping'. A contemporary social practice that creates opportunities for people to come together to meditate, make art and help ideas thrive. Curious? Read more here.